Details below of a red and black Quarry tiled floor at a house belonging to a customer in the Shropshire market town of Shrewsbury, which dates back to medieval times. The owner had recently moved back to the area and purchased the house with the intention of restoring all its original features including the Quarry tiles floor which had several coats of red floor paint and had been covered with carpet for several years, I guess the previous owner wasn't sure what else to do with it.
I was also asked to refurbish the
Victorian Tiled hallway and porch
which was in an equally neglected state.
Naturally this is exactly the sort of thing we do so I was confident the floor could be significantly improved with our assistance and after popping round to take I look provided a quote although due to other priorities it was a whole year later before I was asked to come and do the job.
Cleaning a Quarry Tiled Floor
There was cement based building residue, plaster and efflorescence on the floor so I decided to treat the floor with a strong dilution of Tile Doctor Remove and Go which was left to soak into the tiles for a while before being scrubbed in using a rotary machine fitted with a black pad; the resultant slurry was washed away using more water and a wet vacuum.
The whole process was repeated until I was satisfied that any stubborn areas had been dealt with and then the floor given an acid wash with Tile Doctor Grout Clean-up to remove the efflorescence.
Once I was happy with the condition it was given a final rinse to remove any trace of cleaning products and then left to dry for four days.
Sealing a Quarry Floor Sealing
The tiles have to be dry before sealing and after testing the floor with a damp meter I confirmed that four days has been sufficient and the floor was indeed dry. The next step was to apply three coats of Tile Doctor Colour Grow which is an impregnating sealer that occupies the pores in the tile and enhances the natural colour of the tiles in the process.
I was able to use the same cleaning and sealing process on both floors and I think you will agree it made quite a difference and both floors have been transformed.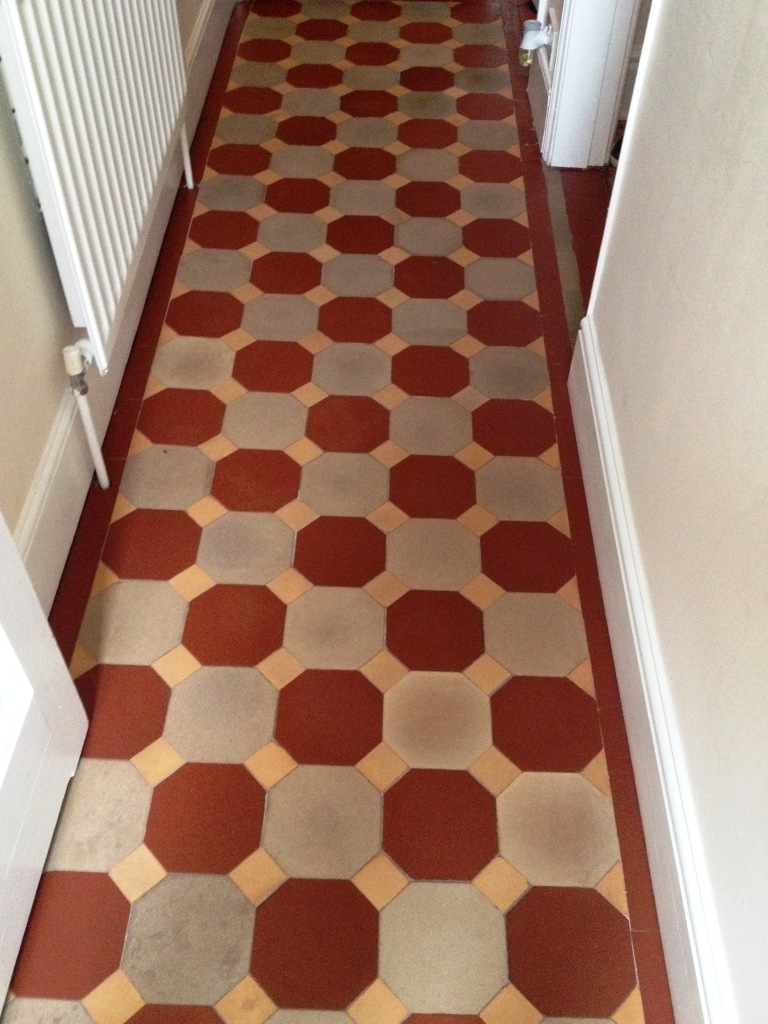 Quarry and Victorian Floor Tile restoration in Shropshire
Victorian and Quarry Tiled Floors Restored in Shrewsbury