Mexico is known to produce some of the best quality Terracotta tiles, with the Saltillo region in the north-east of the country being particularly famous for its craftsman. People from countries all over the world import these tiles and use them in their houses to create fantastic, colourful floors.
This set of Mexican Terracotta floor tiles had been installed throughout the ground floor of a property in historic Shrewsbury which is on the Welsh border and renowned for being the birthplace of Charles Darwin. The tiles were in all the functional areas of including the Large kitchen/diner, pantry, utility room and downstairs WC and so had seen a fair share of wear which had worn off any protective sealers that may have been present.
The floor had not received any maintenance for some time so it was now in dire need of a deep clean and re-seal. At a loss for how to improve the condition of the floor, the property owner contacted me to restore the Mexican Terracotta tiles back to their original condition.
I visited the property to conduct a test clean and, impressed with the result I achieved, the client booked me in to complete the job.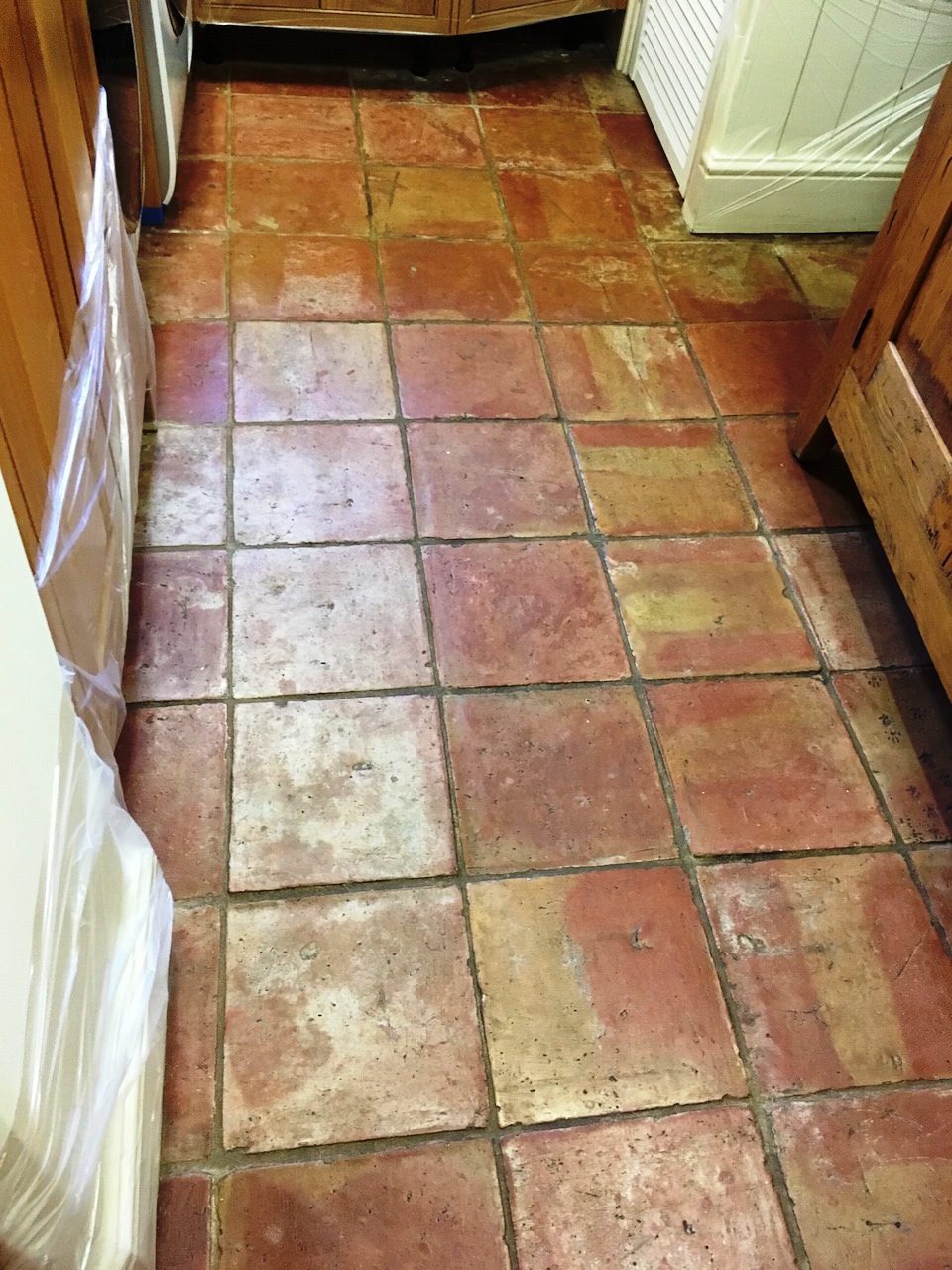 Cleaning a Mexican Terracotta Tiled Floor
Before beginning the work, I made sure to cover the bottom of the kitchen units with plastic wrap to protect them from splashes during the cleaning process. I then started to clean the floor using a strong dilution of Tile Doctor Pro-Clean in combination with a scrubbing brush fitted to a rotary machine.
Pro-Clean
is a versatile and powerful high alkaline that can be used with reliable results on all tile, stone and grout. Once I applied it liberally across the floor I left it to dwell and seep into the pores of the tile. After scrubbing it was rinsed off using water and the soiled solution was extracted using a wet vacuum. Stubborn stains were re-treated and then I focused my attention on to cleaning the dirty grout lines using more Pro-Clean scrubbed in with a special grout brush.
Once I was happy with the condition of the tile and grout I gave the floor a good rinse with water and used the wet vacuum machine again to remove as much moisture from the floor as possible and then left the floor to dry off fully overnight.
Sealing a Mexican Terracotta Tiled Floor
Upon my return to the property I immediately checked the floor to see if it was dry enough to be sealed (thankfully, it was). Testing for damp issues is incredibly important before sealing because any excess moisture can affect the sealer and negatively affect its performance.
I sealed the floor using two coats of Tile Doctor Colour Grow, an impregnating, colour enhancing sealer which offers the natural looking, matte finish the customer requested to match the rustic feel of the tiles.
The customer was really pleased with the improved condition of his floor. So much so, in fact, that he left the following testimonial:
"Five-star performance from Tile Doctor Jozsef Hoffmann in terms of professionalism and customer service. Really pleased with the end result of our kitchen floor – a vast improvement on what is was like. Very happy that we found Tile Doctor and will certainly use them again when needed. I have no problem in recommending to both family & friends."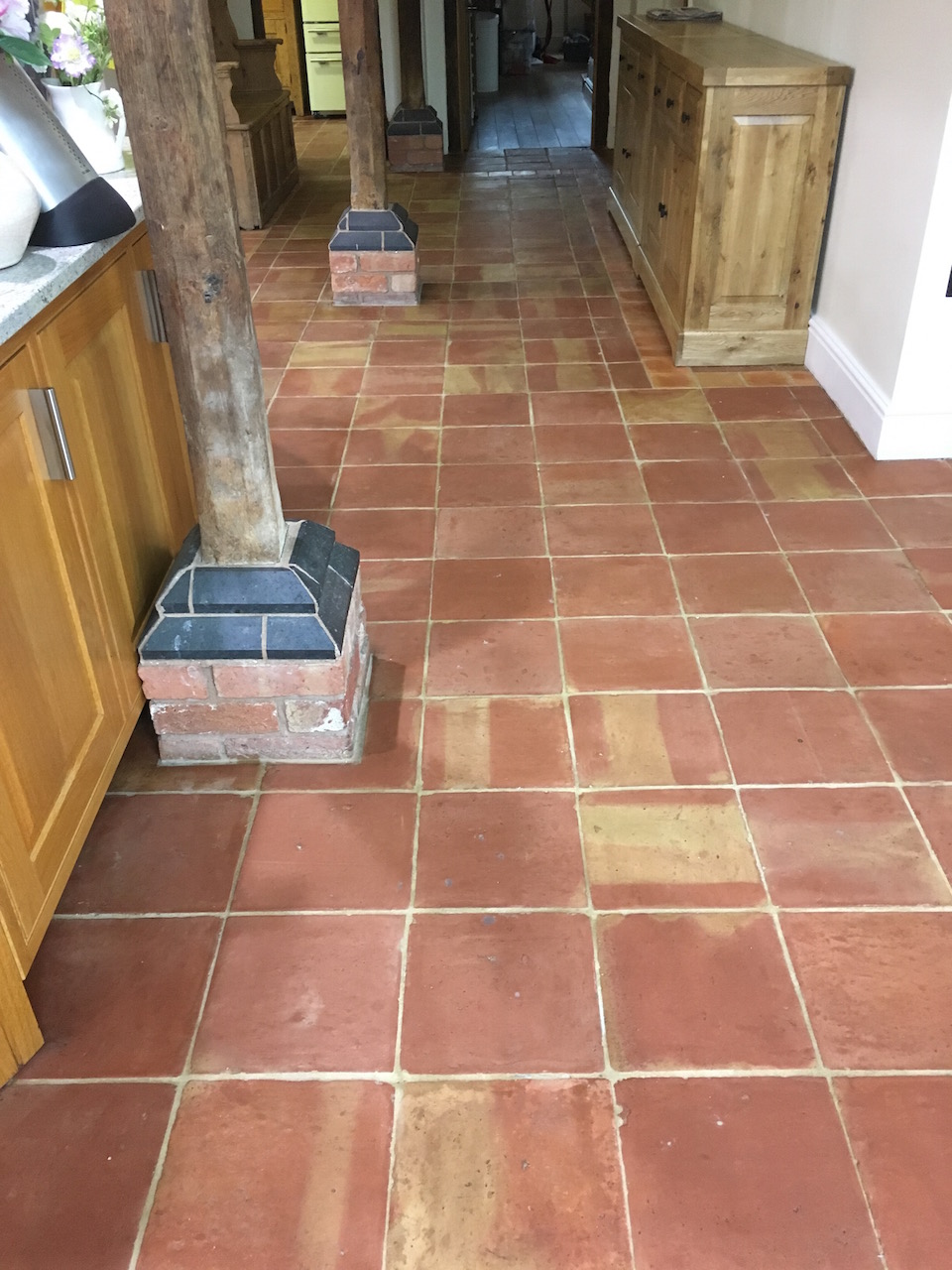 Professional Restoration of a Mexican Terracotta Tiled Floor in Shrewsbury