Ceramic tiles don't have the charm of natural stone, but they are very easy to keep clean; grout on the other hand has a porous top layer that can become stained. This was the problem with a customer of mine who lives in the small rural village of Childs Ercall in the North of Shropshire. The customer had moved in about two years ago and they said that they can keep the floor clean and their main problem was the grout.
I went to take a look at the problem and gave the grout in one section a good scrub with Tile Doctor Pro-Clean which is a strong alkaline tile and grout cleaning product. The result was good and although the grout returned to its original colour they wanted it to be changed.
Cleaning and Preparing the Ceramic Tile and Grout
Before colouring the grout, it made sense to give the Ceramic tile and grout a thorough clean by scrubbing in a weak dilution of Tile Doctor Pro-Clean with a floor buffer fitted with a scrubbing pad running at slow speed. Once done I rinsed the floor with water and extracted the slurry with a wet vacuum.
With any grit and dirt removed from the floor the next step was to prepare the grout for the colourant. Tile Doctor have an acidic pre-treater cleaner for this which cleans and microscopically etches the grout giving the colourant a superior bond with the colourant. The solution is applied to the grout and then scrubbed in with a stiff brush before being rinsed off with water as before.
Applying Grout Colouring
With the tiles clean and the grout prepped I left the floor to dry for an hour before moving onto grout colouring using a colour of their choosing. There are ten colours in the Tile Doctor range and they are easily applied using a small brush wiping off any excess as you go, it was a large area with a lot of grout lines to cover so took the rest of the day to complete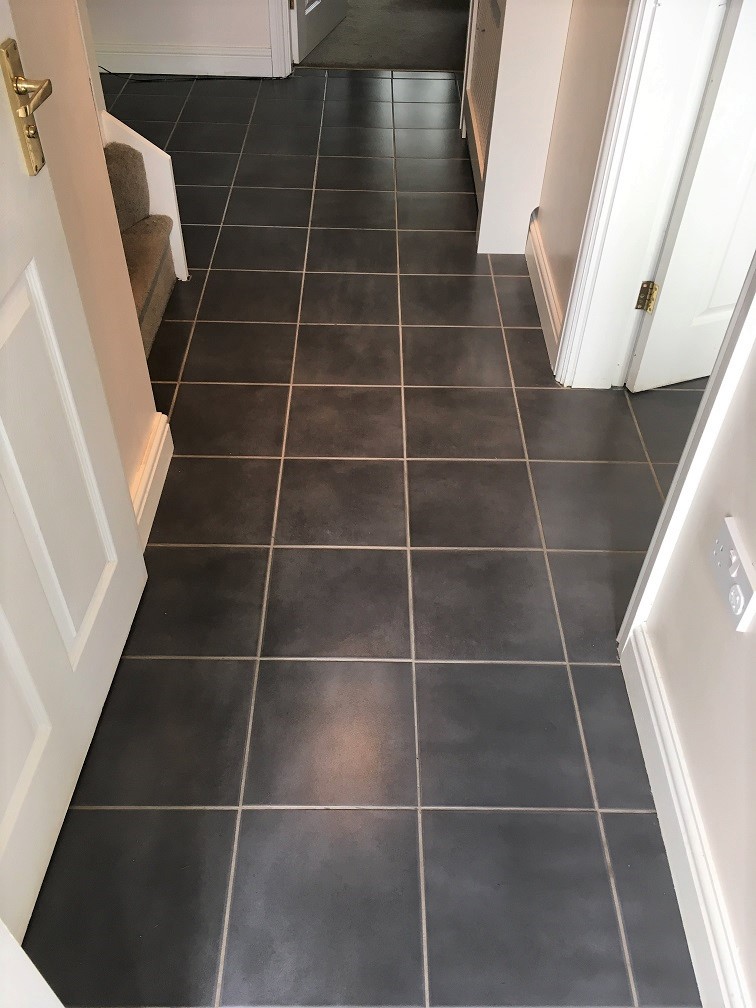 I have to agree with the customer, changing the grout colour was a good move and I think you will agree the floor now looks much improved. The
grout colourant
has the additional advantage of providing a barrier over the grout which will protect it from further issues and make it as easy to clean as the ceramic tiles.
Ceramic Tile Grout Prepped and Recoloured in Shropshire